And now a new series of posts that continue until I lose interest. Going through my albums one by one.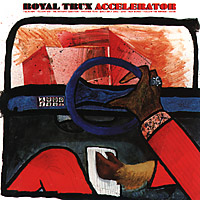 This is the only Royal Trux album I own. I did have Veterans of Disorder, but I somehow managed to lose it somewhere between Hinckley and Spalding.
Anyway, this was their blistering first album after the genius shafting of Virgin Records they performed. They had released the terrible Sweet Sixteen to escape their record deal, all the while getting Virgin to pay for the building of a studio in their home. Once dropped they then put out this awesome rock and roll record on Drag City.
Opening track "I'm Ready" sounds like doors being kicked in. As do tracks "The Banana Question", "Juicy Juicy Juice", "Liar" and "Follow The Winner". If it wasn't for the bluesy "Yellow Kid", the psychedelic "Another Year" and "New Bones" it would be an exhausting experience. And it all rounds off with the soft rock West-Coast ballad "Stevie (for Steven S.)", one of the few songs written in celebration of Steven Seagal.
Here's an inexplicably short video for Liar.